Ah, what's that you say? The sweet sound of silence in your home now that guests and family have left after the holiday season? Yes, we hear that too!
The start of a New Year ushers in resolutions, goals, and a chance to start new in almost any area. If you're still not sure what to choose as your New Year's resolution, let us give you a hand. What about a cleaner home? Alright, maybe your home is pretty clean on the norm. May we suggest a more sanitized home?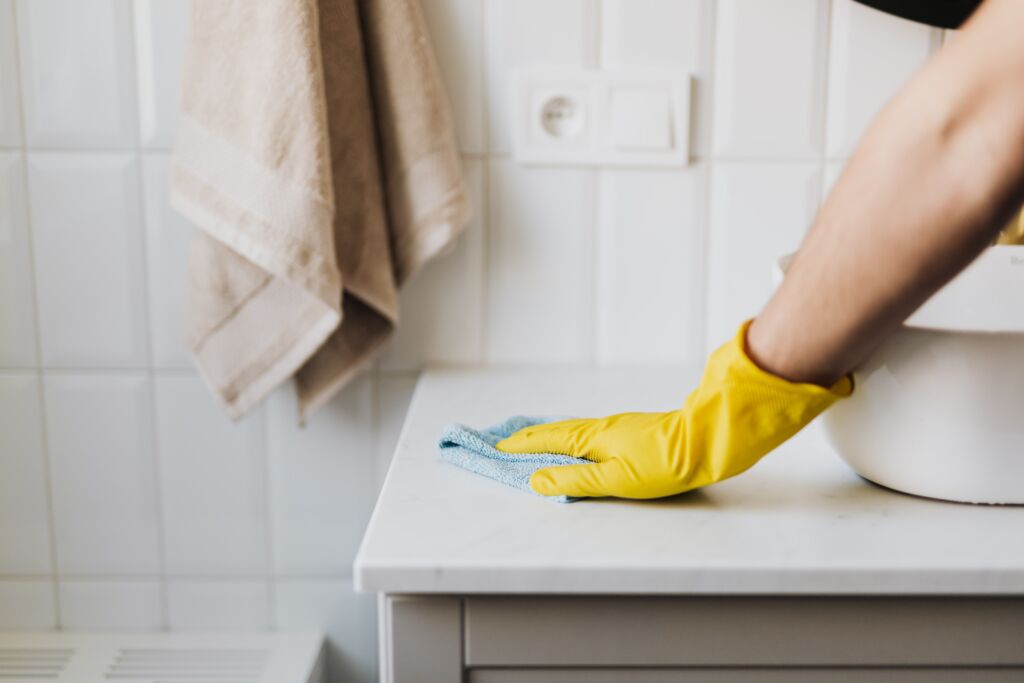 What's The Difference Between Clean and Sanitized?
We get this question all the time, so we're glad you asked. Clean can mean a lot of things. Sometimes clean means tidy — you pick up the lone sock on the floor, straighten up your bookcases, and make sure that your shoes have found their home in your closet and not next to the front door. Tidy is putting things where they belong, and sure, that's one way to clean.
Clean can also mean fresh, like the candle burning on your kitchen counter, or the essential oil mist coming from your living room diffuser. Clean is nice. So is tidy. But neither of them means that something's sanitized.
Sanitized isn't masking over an unpleasant smell or presenting an organized and efficient visual display. Sanitized is removing the germs and bacteria themselves, right from the source. And if you're looking to really clean and sanitize your home, then you should start with the dirtiest place.
Start at the Source
Your kitchen may pile up quickly with dishes throughout the day, but the germiest, most bacteria-ridden place in your house is — you guessed it — your bathroom. And since we're coming off a holiday season where you probably had more people in your house than is normal, and possibly even for extended periods of time, your bathroom is primed for a sanitary makeover!
It's not a secret that unpleasant odors often emanate from your bathroom, often escaping and infesting other areas of your home. But did you know that also traveling with that foul smell are millions of unsuspecting microscopic particles of gross bacteria, pluming from within your home's toilet?
Homes with traditional ceiling ventilation systems only make matters worse. These fans work kind of like our definition of "tidy" above — they give you the appearance of cleaning your bathroom and home of unpleasant smells, but they're not actually sanitizing the air. In fact, most of the time, ventilated fans slowly pollute the entire home through the central air duct system by drawing air up towards return vents, as well as the ventilated fan system.
Gross! How Do I Fix It?
Thankfully, you don't need to live in a home that's been polluted with unpleasant smells and plumes of nasty germs and bacteria! The JonEvac system is a completely self-contained toilet ventilation system that works in multiple ways. It tidies your bathroom overall by eliminating unpleasant odors. It also freshens your bathroom by eradicating plumes of odor and germs.
Finally, it does what you truly need for an overall cleaner home — it sanitizes your bathroom by completely removing bacteria, germs, and odor right at the source — the toilet — before any of those things can even escape!
JonEvac's toilet ventilation system fits over any toilet in your home and comes standard with a charcoal air filtration system that actually sanitizes your bathroom air, making for an overall cleaner home. The ventilation system technology utilized by JonEvac ensures that your home doesn't just appear to be clean and tidy. It really is clean — and sanitized too!
With the flip of a switch on your JonEvac system, you can rest assured that your home stays clean and that the air in your bathroom is being purified with every flush! For a great price, easy installation, and outstanding customer service, the JonEvac toilet ventilation system will kickstart your New Year into a higher, sanitized gear!
JonEvac
Average rating:
0 reviews